---
World Ballet Day
World Ballet Day
Stream our Ballet Class Up Close
On November 1, it's World Ballet Day! To celebrate the day, we will be streaming the Ballet Class Up Close from October 1 for you to watch, featuring ballet master Christine Camillo and the dancers of the Staatsballett Berlin. At the piano: Başak Dilara Lakatos. This provides an opportunity for ballet fans who couldn't secure a ticket for the sold-out event to experience it up close.
On the stage of the Staatsoper Unter den Linden, the curtain will rise to reveal a glimpse of the daily work that usually happens behind closed doors. What the dancers practice every morning, day in and day out, in the ballet studio to prepare for rehearsals and performances is the essential foundation of the art they master so brilliantly. What appears light and effortless on stage requires hard work and relentless discipline. That's precisely where the fascination lies, continually captivating the audience.
Enjoy the show!
---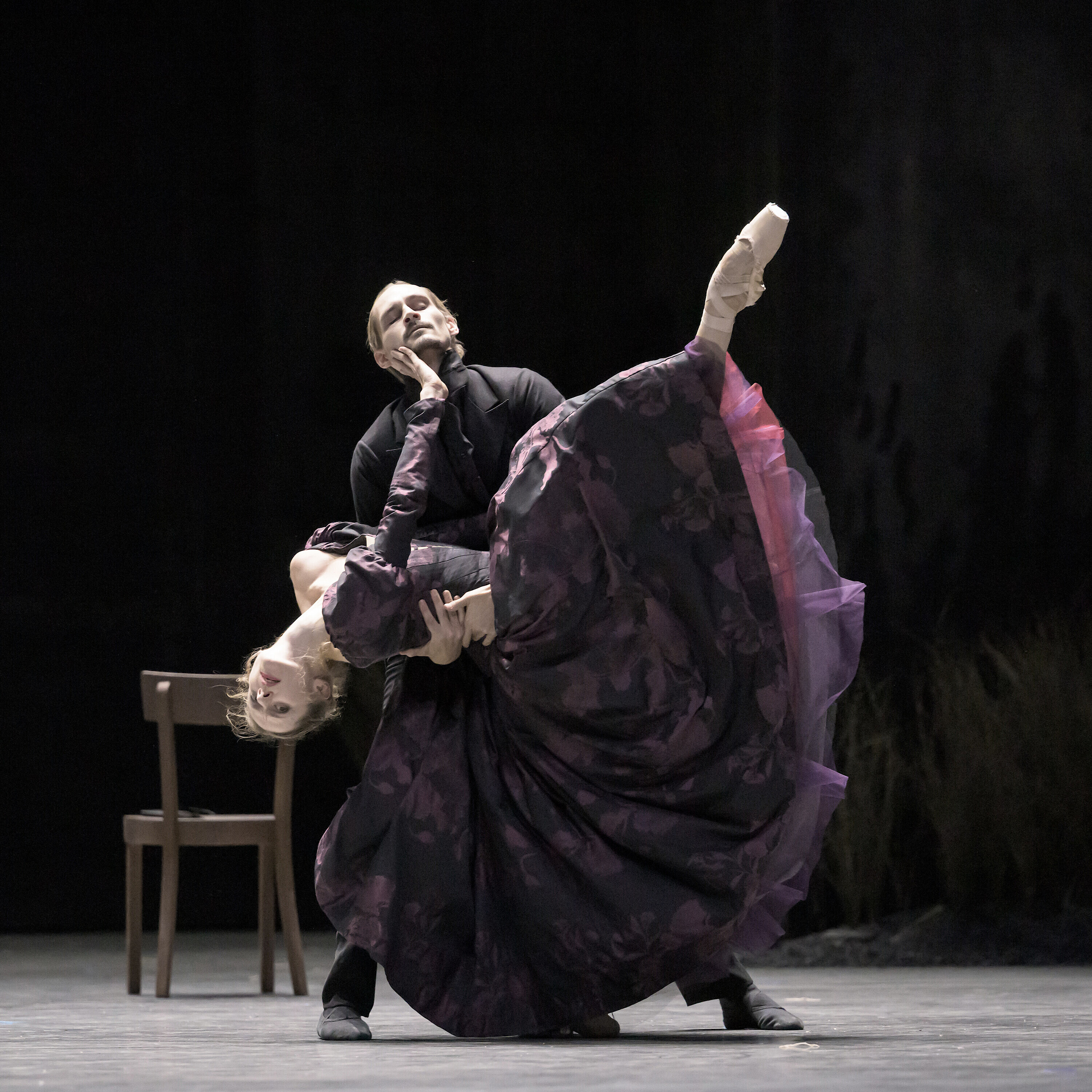 Bovary live stream
Bovary live stream
Christian Spuck's creation on Arte Concert
We're thrilled to announce that Arte Concert will stream the premiere of Christian Spuck's Bovary live on Friday, October 20, 7:30pm. Afterwards, the choreographer's new creation will be available to stream for three months.
---
Introductions by dance scholars
Introductions by dance scholars
Staatsballett Berlin and Freie Universität Berlin to cooperate
The Staatsballett Berlin and the Master's program in Critical Dance Studies at Freie Universität Berlin will resume their cooperation in the 2023/24 season. Thanks to this partnership, there will once again be introductory presentations before each performance conducted by students from the Freie Universität Berlin and dramaturges of the Staatsballett Berlin.

From the 2023/24 season onwards, visitors to the Staatsballett Berlin will be able to experience a free, personal introduction before each performance. This is made possible by the revival of the collaboration between the Staatsballett Berlin and the Master's programme in Critical Dance Studies at the Freie Universität Berlin.

What is it that captivates us during a ballet evening? Is it the current political references, the unique language of movement, the virtuosity of the dancers, encounters with (dance) histories? These and other questions are at the heart of the presentations, which will take place 45 minutes before the start of each performance at the venue.

Under the direction of the Staatsballett dramaturg Katja Wiegand and dance scholar Lucia Ruprecht from the Freie Universität Berlin, dance scholars from the Master's programme in Critical Dance Studies will present introductions to the performances, not only providing insights into the academic study of dance, but also sharing their personal enthusiasm for choreographic details, fascinating forms of movement and the social relevance of dance as an art form with the audience.
---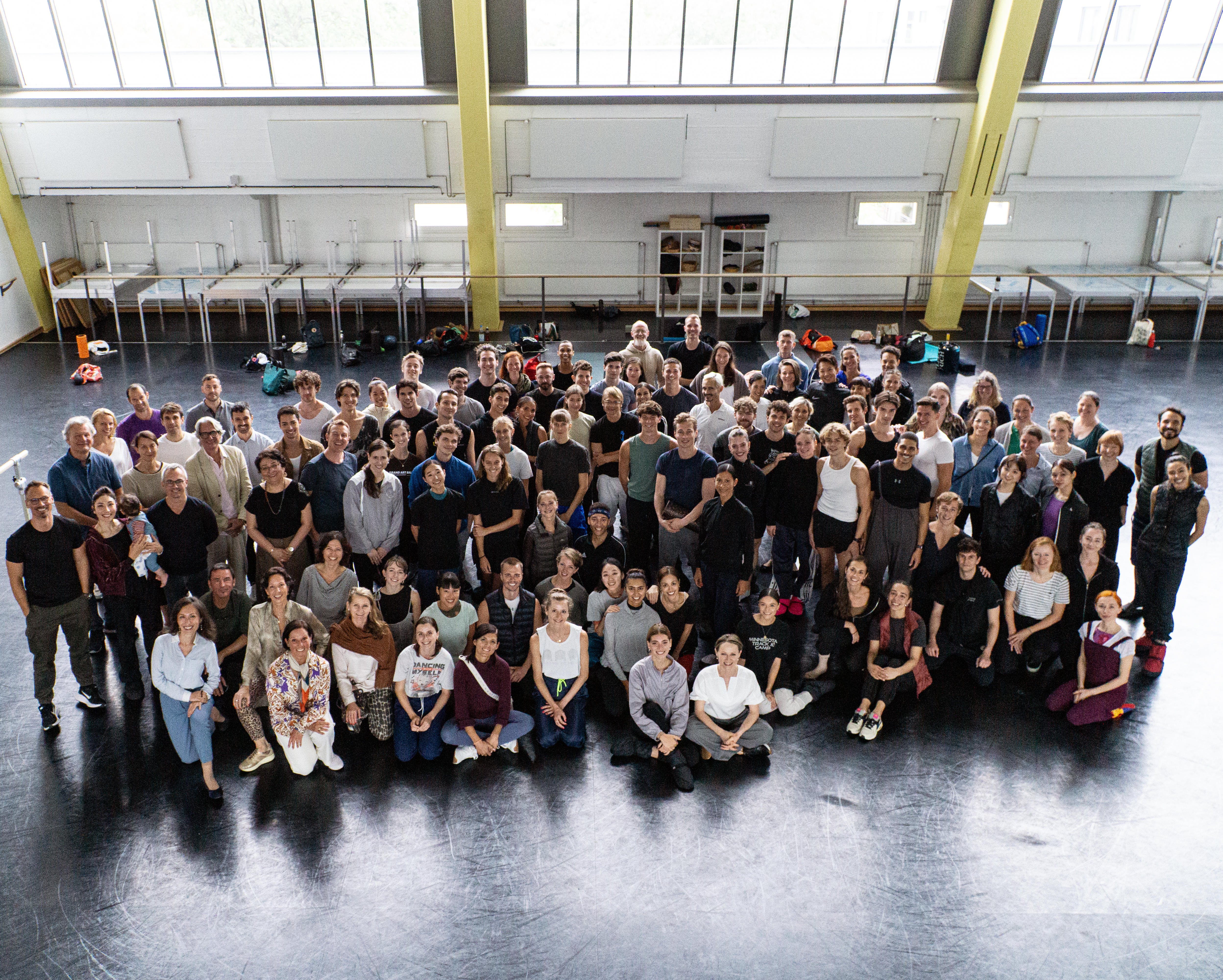 Back in the studio
Back in the studio
Back in the studio after the summer holidays.
First day back in the studio after the summer holidays. We are looking forward to a thrilling 23/24 season with our new Artistic Director Christian Spuck and plenty of exciting stage productions.
---
Marcos Morau: Choreographer of the Year
Marcos Morau: Choreographer of the Year
«tanz» magazine's yearbook 2023 elects Morau.
First performed in late September 2022 by Ballet Zurich, Morau's production Nachtträume received particular acclaim. It was commissioned by our new artistic director, Christian Spuck. Emphasising the choreographer's «fascinating body cascades and frescoes», the critic Bettina Trouwborst writes:
«Marcos Morau galvanises his audiences with surreal pictorial canvases illustrating historical as well as current social crises in a uniquely grotesque fashion. To quote the 40-year-old man himself, it is ‹out of monstrosity and beauty› that he composes an aesthetics that can, on occasion, be shocking in its relentlessness. It is moulded out of dance, music, visual art, literature, film, and photography.»
This season, we are excited to welcome Marcos Morau as our artist-in-residence. He'll celebrate his Staatsballett debut on April 28, 2024 with the world premiere of his creation Overture.
---
23/24 Season: «Re-thinking ballet»
23/24 Season: «Re-thinking ballet»
New season, new artistic director, new design!
Next season, we'll celebrate four premieres: Bovary, a world premiere by Christian Spuck; 2 Chapters Love, a double bill with new creations by Sol León and Sharon Eyal; William Forsythe, featuring three works by the choreographer; and Overture, comprising a piece by Crystal Pite and a new creation by Marcos Morau who is also our artist-in-residence from next season on.
With Next Generation, we give our dancers the opportunity to shine as choreographers; with a glamourous gala, we celebrate the company's 20th anniversary. Also part of the programme: Half Life, feat. LIB by Alexander Ekman and Half Life by Sharon Eyal, Messa da Requiem by Christian Spuck, Sleeping Beauty by Marcia Haydée and Giselle by Patrice Bart.
To mark the beginning of a new era, we also welcome Berlin-based design agency Eps51 to the fold who provided us with an expressive new look complemented by a photo series by Florian Hetz featuring eight of our dancers.
Take a closer look at our programme and our new webpage. Tickets to all performances this season are available via our website.